Saturday, November 17, 2007
No More Chains!!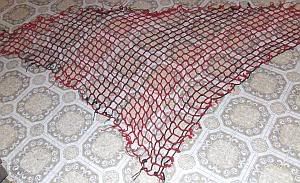 Please, no more chains! I'm so tired of chains. Feels like I done 2,473 chains in the last week. And I just can't do anymore.
Okay, that's not exactly true. There's only 80 chains in this shawl, but they seem to just go on and on forever. However, I finished the crocheting part of this Waffle Lattice Shawl. I'm doing the really easy part now - the felting! I should have pictures of the completely finished, felted shawl tomorrow. So stay tuned!
Comments:
Oh wow! How interesting!
I'm so curious to see how the chains will felt.
I'm so into felting this year, and I felted Tunisian crochet fabric, and regular dc st fabric... but not a fabric made with chains. Really interesting. Can't wait to see the result. :)
Post a Comment
<< Home