Saturday, November 10, 2007
New Yarn! New Stitch!
I currently have six projects going. One, a butterfly blanket, almost finished, that will probably be put aside until after Christmas. Two, a knitted shawl, half done, that is also probably going to wait. Three, a shawl I started today. Four, a jacket that I'm waiting for the yarn to get here. Five, a Christmas tree skirt that I have some of the yarn for. And Six, an afghan that I haven't started and don't have the yarn for and would like to give my husband for Christmas. I think I'm going to be very, very busy over the next couple of months.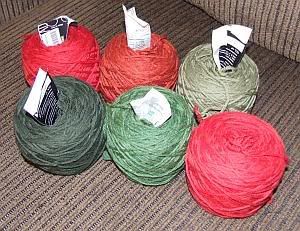 This is six balls of Cascade 220 and they are not quite as bright as in this picture. I've actually started this project today. I'm making the Waffle Lattice Shawl in the Fall 2007 issue of Interweave Crochet. It's coming along pretty good and I have high hopes of finishing it tomorrow.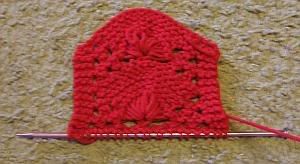 The fall 2007 issue of Vogue Knitting includes a pattern for a Shell Lace Jacket which I have absolutely fallen in love with. The VK jacket is red but I'm going to make it in green. I've got the yarn on order and I'm having to endure the hardship of waiting for it to be delivered. But since I do own a pretty hefty yarn and needle stash, I did some practicing on the cockleshell lace pattern today. This includes a purl 15-stitches together maneuver! Not something I do very often, so I figured the practice would be good. You can see that my second try came out much better than my first.