Friday, June 16, 2006
Little Princess Baby Blanket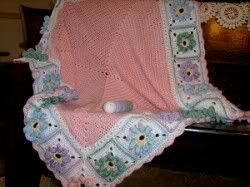 Pattern:
Blanket designed by Pamela Wood - pattern is in the April 2004 Crochet World. Caterpillar designed by KristieMN - pattern is
here
on Crochetville.
Yarn:
Caron's Simply Soft
Notes:
I started this blanket (maybe about 2 years ago) but put it up when I got tired of doing all those flowers. But, in hopes that a good friend of mine will have a baby girl after 2 adorable boys, I pulled it back out and finally finished!
It is a cute blanket. Pattern has a huge error though - one row was totally left out. It was an easy error to notice so I was able to compensate.
I had yarn left over, so I made a matching toy. I love Kristie's patterns!
Ain't it just a precious set? Gee, I hope that baby is a girl.
Wednesday, June 14, 2006
DIY Crochetville Team
Such an exciting day! So many good things to be thankful for!!
First, I'm officially part of the
Crochetville
team to apply to be on Uncommon Threads on the DIY network. Wow! Now I'm much more of a crocheter than a designer. I so thankful to all the great designers out there who design such wonderful items. And I buy a lot of patterns each year making me a designer-supporter. So Pfft! to all those low-lifes who copy patterns and spread them all around. (Okay, I'm getting off topic here...)
Then, if you go to the post about the finished Sunflower afghan, you'll note that none other than
Kim Guzman
herself has left a comment! I 'bout fell out of my chair when I saw that. And she has a blog post up today linking to this blog!
So, it's been a good day.