Friday, May 25, 2007
Baroque Jacket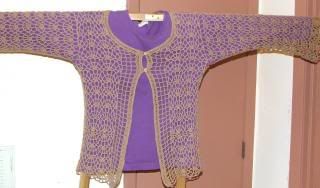 Pattern: Baroque Jacket
Designer: Stitch Diva
Yarn: Brown Sheep's Cotton Fine
I bought the Stitch 'N Bitch Crochet book because it contained this pattern, although it is also available from
Stitch Diva's website
. Picked up some yarn and I finished this several months ago. But it looked so bad that I tossed it in a drawer and left it there. Now I am trying to finish all the unfinished projects around here, so I pulled this back out and blocked it. Wow! What a difference blocking made (and I apologize for the lack of a "before" picture). It is really a nice jacket and I've already worn it.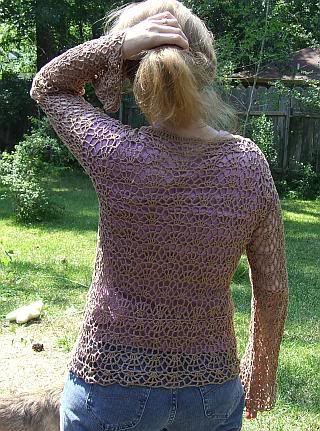 The original pattern calls for ribbons to be woven through the lace and tied in front. But I opted instead for raiding my button stash and adding some loops for button holes.
The yarn is a 80% cotton/20% wool mix and looks great but it was a pain to work with. It just kept splitting and I almost gave up. But I think this project was well worth it.
Friday, May 18, 2007
Lacy Treasure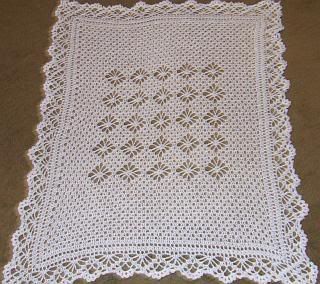 Well, the shawl is still a work in progress, but I did finish a baby blanket.
It's from the book Keepsake Baby Afghans and designed by Kay Meadors. I used Bernat Coordinates for this and I have to admit it turn out gorgeous! The yarn has a bit of nylon in it and the finished blanket just sparkles. So pretty!! But the same bit of nylon made the yarn a bit tough to work with because it kept splitting. ARGHH - hate in when that happens. This blanket is going to my newest step-grandchild. I just know he will love it.
Wednesday, May 02, 2007
She Still Crochets!
Yes, it is true. I'm still crocheting but somehow, the blogging thing isn't going quite as well. Here's a quick update on recent projects.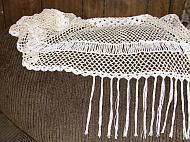 Here's a true confession - I hate doing fringe. I tend to do it slo-o-owly. I've spent more time on this fringe than I did on the entire shawl and I'm only half-way done. But the shawl is gorgeous and really needs the fringe to hang properly. So I'm giving myself one week to finish this. Watch for an update next Wednesday!!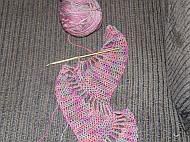 I'm working on the Boteh Scarf from the latest issue on Interweave Crochet. The yarn is a variegated shade of Lorna's Laces sock weight that I picked up on eBay. Did anyone else notice that the written directions and the stitch diagram in this pattern were ever so slightly different? The diagram is correct.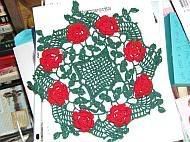 Finally, during a brief spurt of spring cleaning I came across this doily. Isn't it cute? It's Irish Crochet and in desperate need of blocking. I vaguely remember doing this but I have no clue where I found the pattern.