Friday, May 25, 2007
Baroque Jacket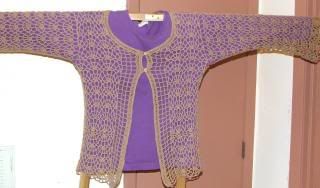 Pattern: Baroque Jacket
Designer: Stitch Diva
Yarn: Brown Sheep's Cotton Fine
I bought the Stitch 'N Bitch Crochet book because it contained this pattern, although it is also available from
Stitch Diva's website
. Picked up some yarn and I finished this several months ago. But it looked so bad that I tossed it in a drawer and left it there. Now I am trying to finish all the unfinished projects around here, so I pulled this back out and blocked it. Wow! What a difference blocking made (and I apologize for the lack of a "before" picture). It is really a nice jacket and I've already worn it.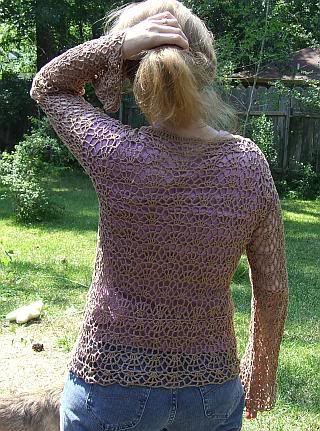 The original pattern calls for ribbons to be woven through the lace and tied in front. But I opted instead for raiding my button stash and adding some loops for button holes.
The yarn is a 80% cotton/20% wool mix and looks great but it was a pain to work with. It just kept splitting and I almost gave up. But I think this project was well worth it.