Sunday, October 21, 2007
Half-way!!
I've been miserably stuck at home for the past 4 days coughing and sniffling. I've had nothing but time on my hands and I've done some crocheting and some knitting.
I alternate between crocheting and knitting. I'm a much better (and faster) crocheter, but I'm determined to learn to knit. I've been (slowly) working on A Beginner Triangle from A Gathering of Lace.
And I hit the half-way point this weekend. I'm just thrilled with this tiny little point!! It's taken forever to get this far.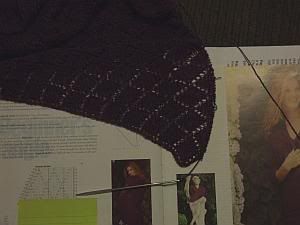 (Not the best of pictures, but I'm sickly...)
Tuesday, October 09, 2007
Published, Ravelry, & Purchased
I've heard that good things come in threes and it must be true.
Good Thing #1 - On a whim, I submitted the pie picture below to
allrecipes
. The recipe didn't have a photo and I figured mine was pretty good, even though it is a tiny bit fuzzy. So I checked today and, well, the picture you see
here
was taken by me. That makes me a published photographer, doesn't it? It's a small thrill for me.
Good Thing #2 - I finally got my
Ravelry
invite. I picked the user name "
Duckie
" over there. (Just 'cause I think ducks are cute.) Haven't done anything more than lurk around the site, really haven't had time to do much more. But it looks interesting and I'm sure I'll post a few things there later on.
Good Thing #3 - I got a package in the mail. Amazon may well be my downfall. It's a whole website full of books and other neat stuff, gold box specials, and the ability to
pre
-order crochet books that haven't yet been released! I check Amazon every day. And the package was one of the books I had
pre
-ordered.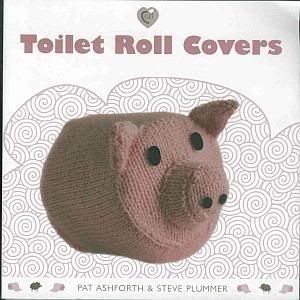 What can be cuter (and more useless) than a toilet roll cover shaped like a pink pig? Yes, I bought this book because I thought the cover was just too cute. So, I've got my late-night reading covered for tonight.
Gotta Go - Have a good one!
Labels: Books
Sunday, October 07, 2007
Puddin' & Pie
I cleaned out one of the kitchen drawers yesterday. Does anyone else stick miscellaneous items in kitchen drawers? We do - strange little doo-dads, notes to remember, and hubby saves wire nuts.
I don't know why he saves wire nuts. But he's like a squirrel hiding acorns when it comes to wire nuts. Little piles turn up here and there around the house. It's one of the strangest things about him. He's an addiction counselor - why does he need so many wire nuts?
Anyway, one of the kitchen drawers had become so full that it no longer opened smoothly. We were having to grab the handle and JERK to get it opened. So I dumped the whole thing!
And amongst the wire nuts, doo-dads, rolling pins and cloth napkins, I found a recipe all folded up. A recipe for which I just happened to have all the ingredients. So we now have one well-organized clean kitchen drawer and we had pie last night. And it was all very good.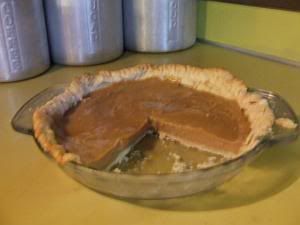 The recipe is
Grandma's Butterscotch Pie
from allrecipes.com. I even made the crust from scratch! And served it up with a lite dusting of nutmeg!