Tuesday, October 09, 2007
Published, Ravelry, & Purchased
I've heard that good things come in threes and it must be true.
Good Thing #1 - On a whim, I submitted the pie picture below to
allrecipes
. The recipe didn't have a photo and I figured mine was pretty good, even though it is a tiny bit fuzzy. So I checked today and, well, the picture you see
here
was taken by me. That makes me a published photographer, doesn't it? It's a small thrill for me.
Good Thing #2 - I finally got my
Ravelry
invite. I picked the user name "
Duckie
" over there. (Just 'cause I think ducks are cute.) Haven't done anything more than lurk around the site, really haven't had time to do much more. But it looks interesting and I'm sure I'll post a few things there later on.
Good Thing #3 - I got a package in the mail. Amazon may well be my downfall. It's a whole website full of books and other neat stuff, gold box specials, and the ability to
pre
-order crochet books that haven't yet been released! I check Amazon every day. And the package was one of the books I had
pre
-ordered.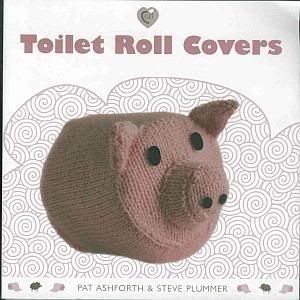 What can be cuter (and more useless) than a toilet roll cover shaped like a pink pig? Yes, I bought this book because I thought the cover was just too cute. So, I've got my late-night reading covered for tonight.
Gotta Go - Have a good one!
Labels: Books