Sunday, April 30, 2006
Closet Clean-Out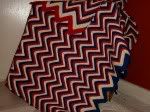 Cleaned out my closet this weekend. I don't know how I managed to stick so many things into one closet but what a trip down memory lane it was! Thought I would share a few of the things I found covering 3 decades of my life.
From the 1970's is this afghan made by my Aunt E. If you didn't live thru the 1970's, particularly the year 1976, then you can't possibly understand the excitement that gripped the USA as the bicentennial year drew closer and closer. Everything was colored red, white, and blue. And this little afghan was given to me. I love it and, God willing, I will still own it when I die.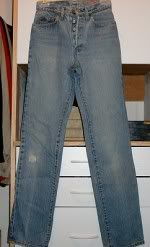 From the 1980's, is something else that I can't bring myself to give up. My genuine Levi 501 button-fly jeans. Never again will I be small enough to fit into these, which is okay because I almost wore this pair out. These jeans were HOT! I happened to be in Atlanta, GA when they hit the market and I immediately bought a pair. The pants came with instructions sewn to the waistband, because you had to "shrink to fit" for a personal fit. I remember spending a whole afternoon in a laundermat washing, drying, and putting on my new jeans until they were just right.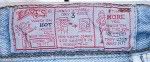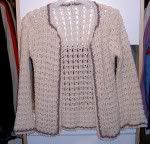 And my crochet habit started in the 1990's. That's when I made this broomstick lace cardigan. I found the original pattern dated 1993. I thought that the border with all the little roses was so cute. I still do but the cardigan no longer fits. This may well be the first wearable that I ever made. I washed it and hung it back up. Some things just can't be given up.
In other news, I finished two things! (Boy, I've been busy this week!!) Pictures will be coming soon, but hubby's socks are done and I've finished the bell-sleeved pullover.
Friday, April 21, 2006
Works In Progess
Tuesday, April 18, 2006
Oops...
Saturday, April 15, 2006
FO: Sunflower Afghan
Thursday, April 06, 2006
Elegant Poncho