Tuesday, April 18, 2006
Oops...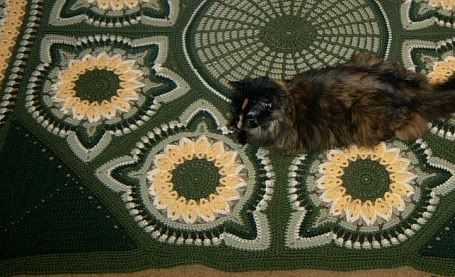 So I laid the afghan on the floor, turned around for one minute to grab the camera, pointed the camera at the afghan, and suddenly, there was The Cat all nice and comfy-like, perfectly content to lie there and have her picture took. Now why do cats do that?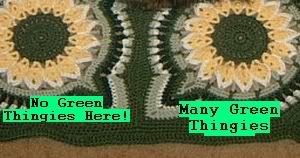 But the real oops is that there is a mistake in the Sunflower Afghan!I laid this blanket out many, many times as I was working out and I've spread the finished blanket out a few times to show off, and it always looked fine. It wasn't until I was reading thru my thread at Crochetville that I happened to look at the pic I had posted and noticed a dreadful error! One of the 8 sunflower blocks is upside down! How in the world did I miss that? The dark green front-post double crochet stitches, which should be framing the front of the flower are on the back. I've double-checked on the actual blanket and, yep, it's upside down.
One rainy day when I'm bored and looking for something different to do, I'll pull out the border, cut the seams, and turn that block over.
Labels: Sunflower Afghan
Comments:
no,no,no,no....I don't think ANYONE noticed but you!!!
hey, shhh, that will be you and your afghans little secret...
I wouldn't worry about this! the cat and the afphan are PERFECT...if only I could spell ;)
Post a Comment
<< Home