Saturday, April 15, 2006
FO: Sunflower Afghan
Project:
Sunflower Afghan designed by Irena Janiashvili
From:
Kit purchased from
Mary Maxim
Yarn:
Red Heart Super Saver
Measures:
50.5 inches wide, 72 inches long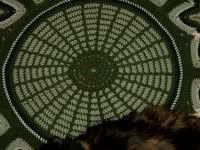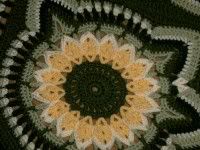 Notes:
This was a bear of a project from the get-go. The kit was on back-order for a couple of months, and I had given up on actually receiving it when it showed up at my door. The yarn included was Red Heart Super Saver instead of Mary Maxim's Starlette. I've never used any of the Mary Maxim yarns so I don't know if this was an upgrade or not. (I did get a $5 gift certificate for having to wait so long and I've got several full skeins of yarn left over.)
The pattern has several errors and was a bit difficult to figure out at times. I ended up completely changing the last row of the border. The pattern featured crocheted tassel-things, which I thought looked just awful, and I ended up finishing the ends with a row of shells instead.
All in all, I'm really pleased with the way this turned out. It was a challenging project with lots of different stitches. And The Cat seems to think it is all comfy.
Next Project:
The Bell-Sleeved Pullover from Tahki Stacy Charles Crochet book. I'm also still working on a pair of socks for hubby and I want to finish a baby blanket I started a while back.
Labels: Sunflower Afghan
Comments:
It looks like that was an awful lot of work, even without all of the extra trouble you had! It's absolutely gorgeous though...great colors and beautiful pattern.
Post a Comment
<< Home