Thursday, April 06, 2006
Elegant Poncho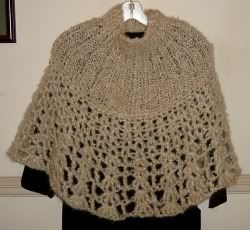 Pattern:
Poncho from the Fall/Winter 2005 issue of Family Circle Easy Crochet
Yarn:
Paton's Divine, 3 balls Soft Earth
Notes:
The pattern calls for the knitting to be done in rows and the crocheting to be done in rounds. Nowhere does the pattern mention anything about seams, which I try to avoid anyway. So I got a circular knitting needle and did the knitting in the round too.
This is currently the favorite item I have made. I've worn it several times and it wears well and looks good! (A great combination for wearables.)
And it was fun to make. The top half is knit ribbing while the bottom is crocheted shells.
Remaining soft, fuzzy yarn went towards a kitty blanket (which The Cat refuses to actually lie on).
Comments:
Your poncho looks so nice and soft!
I use the color a lot when I make my own things. :)
Can't wait to see the finished sunflower afghan!
It's coming along very nice!!!
Post a Comment
<< Home