Thursday, March 30, 2006
Circle Time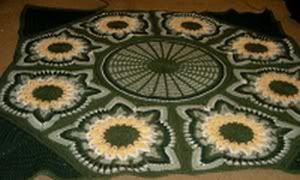 And I have finally achieved a Sunflower Circle with 4 corners! Now on to the borders.
This has become known 'round here as the "deviled egg blanket". The first time I spread it out, hubby and I both looked at it and thought "yum, plates of deviled eggs!" Now I can't get the image of eggs out of my mind. But trust me, these are sunflowers - that's what the directions say.
Labels: Sunflower Afghan
Comments:
It sure does (the egg thing)!!! Very good work and very pretty! Way to go and I thought that was rather fast!
Post a Comment
<< Home