Tuesday, March 14, 2006
Decoupage & Crochet
So the subject of decoupage has come up on Crochetville and reminded me of these plates I made a few years ago. I had made several mini doilies and when trying to find a use for them, I came up with this idea. It's actually a set of four, but one plate doesn't look that good so it will remain private. I took clear glass dessert plates,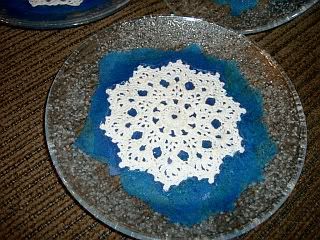 centered a small doily on the backside, covered the doily with blue tissue paper, and very carefully brushed a layer of Mod Podge over the entire back of the plate. Sprinkled glitter over it all and let it dry. The glitter didn't become very glittery, but it did come out looking rather snow covered. I've actually used these for cookies and such.
The afghan kit I ordered from Mary Maxim in January has been on back-order but it finally arrived! Joy & glee has spread across the home because I had just about given up on ever receiving this kit and I really, really wanted this pattern. I love this design and I already have a good start on it. It is a bit of a challenge but I'm having fun with it.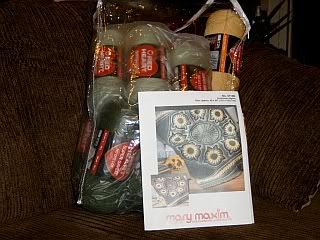 Comments:
I am very interested in the decoupage..I've never seen anything like that! Your afghan look great so far..I really like the colors, so that one is made in portions?
Post a Comment
<< Home