Monday, November 19, 2007
FO: Waffle Lattice Shawl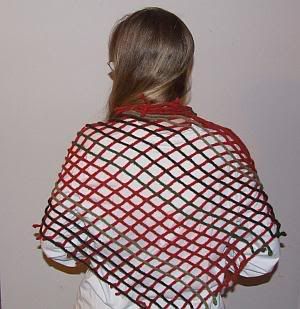 Waffle Lattice Shawl designed by Elin Nybo. Pattern is in the Fall 2007 issue of Interweave Crochet. I used 5 different colors of Cascade 220 for this felted shawl.
This was really a different type project from what I usually make. It's the second time I've felted anything. The shawl is made from a series of 80 connected chains. And then the whole thing is felted. And this yarn felts wonderfully!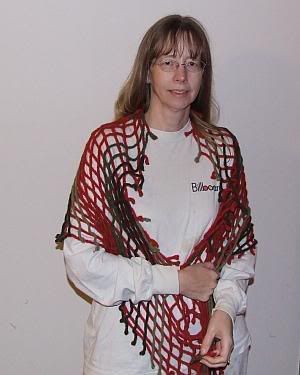 And now for a revelation that I've never had to make before about any of my projects -- I'm not sure I like it. There I've admitted it and I feel better for it. I messed up on the colors, the reds are just too red and too similar. Really you can't tell that there are two different shades of red in this shawl. I should have gone with more brownish shades to contrast with the green. And it doesn't really fit comfortably. I wear my shawls a lot and I just haven't figured out how to wear this one well. It's basically a large felted net and tends to scrunch up in the front. I'm hoping it will grow on me though.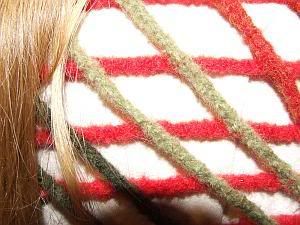 But...The felting part was a success! And I've got a good bit of yarn left so I think I may try making some felted potholders for Christmas.

Labels: Projects
Comments:
It's looks cute and X'mas-y! :)
I have the issue of Interweave Crochet, and I don't know how I missed the pattern. Anyway, I found it and I'm looking at it now. :D
I think the color is good, and it looks felted beautifully. :) I'm just surprised to see chains felt like that! Thanks for sharing your experience and your opinions! :)
Post a Comment
<< Home