Saturday, May 20, 2006
Scarf Swap 2006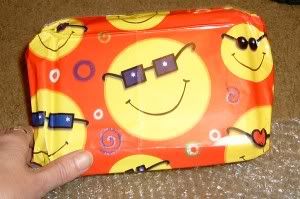 I got a package from the land down under, also known as Australia! Isn't this exciting!! I tore off outer wrapper, then tore through the bubble wrap, and found...happy smiley faces wearing sunglasses. Ain't that just so cute? I stopped tearing stuff, made sure that Hubby properly admired the cute wrapping paper, and took a picture.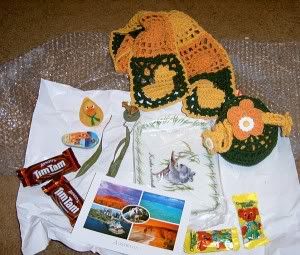 Very carefully, I finished unwrapping the package and found all sorts of goodies inside. Let's see, there's candy (and it was very delicious), an Aussie postcard, a souvenior tray with Koala picture, some "g'day"leaves, a flip-flop magnet, and a duck (love the duck). The round thing with the flowers opens up into a very nice bag, which I'm taking on our upcoming short vacation. And the scarf - yellow, orange, and green - to match my blog. With duckies on each end. I love it! I love it! Thanks so much Cupcake!!
Comments:
Hey there! I hope you shared the Tim Tams and Caramello Koalas with your husband! I am glad you like the ducks, they took me a bit of figuring out. While it was a summer scarf swap, we are coming into Winter here so I didnt have a great choice of Summer yarns. Any how I enjoyed making it for you. The bag was out of the left overs. I hope you find it useful.
Happy Times to you fom me! Cupcake at crochetroo!
Post a Comment
<< Home