Friday, May 05, 2006
FO: Bell-Sleeved Pullover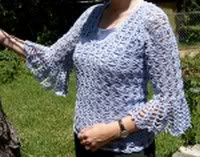 Pattern:
Bell-Sleeved Pullover from the Tahki Crochet book. Designed by Doris Chan.
Yarn:
Tahki Yarn's COTTON CLASSIC, color 3931 (100% mercerized cotton DK/worsted weight)
Notes:
This was a wonderful soft yarn to work with. I will have to use it again.
The pattern was well-written and easy to follow. I couldn't figure out how this went together when I first read the pattern. But once I got pass the first 2 or 3 rows, the design began to come together.
And I really like the pullover. I've worn it twice so far. The fit is great and the sleeves are just the right length, that is they aren't so long that the bell part gets caught on stuff. I was overjoyed to find a matching shirt at Sam's! Especially since I was expecting to really have to hunt for what to wear under it.
And this is a GREAT pattern book. There are so many really great patterns inside and I'll be making some of them in the near future. The book is available at
Patternworks
and also at
Dreamweavers
.
Hey, my back-yard needs mowing! Any volunteers?
Comments:
Sweater looks great - and the shirt underneath does match perfectly. That seems to be an issue with crochet (and some knit) sweaters. I have yet to tackle a sweater yet so I might have to invest in your recommended pattern book. I look forward to seeing your 63 Squares Afghan photo album - I just finished my second square, too. Kelli
Post a Comment
<< Home