Friday, June 16, 2006
Little Princess Baby Blanket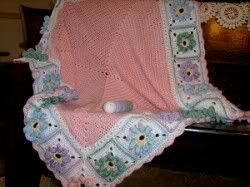 Pattern:
Blanket designed by Pamela Wood - pattern is in the April 2004 Crochet World. Caterpillar designed by KristieMN - pattern is
here
on Crochetville.
Yarn:
Caron's Simply Soft
Notes:
I started this blanket (maybe about 2 years ago) but put it up when I got tired of doing all those flowers. But, in hopes that a good friend of mine will have a baby girl after 2 adorable boys, I pulled it back out and finally finished!
It is a cute blanket. Pattern has a huge error though - one row was totally left out. It was an easy error to notice so I was able to compensate.
I had yarn left over, so I made a matching toy. I love Kristie's patterns!
Ain't it just a precious set? Gee, I hope that baby is a girl.
Comments:
You did an amazing job! I just love it. The colors you picked are gorgeous. What a neat pattern. I just love Caron Simply Soft yarn. I know your friend will treasure this gift.
Post a Comment
<< Home