Tuesday, July 05, 2005
More Stash-Busting
I like to read crochet patterns. I spend alot of time reading patterns online and imaging how the crochet process goes along. In my mind's eye, I substitute different yarns and colors. Just by reading patterns I can crochet countless items over and over without ever actually finding a hook and yarn.
However, this habit is not helping my yarn stash actually shrink. (And I own way too much yarn!) So, I printed out the very first pattern in the very first issue of Crochet Me and voila!!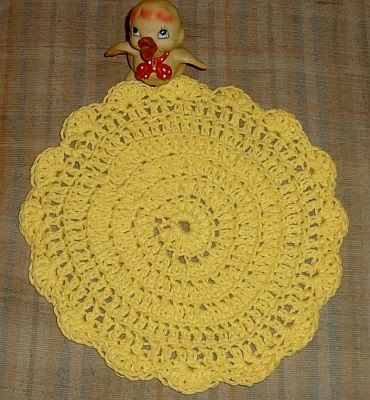 It's a crocheted washcloth made from Lion Brand cotton yarn. I changed the pattern a bit by crocheting in the back loops only. I like this. It's a nice size and very soft. I haven't used it yet but I plan to make several more to put in a basket in my bathroom. After all, I've got plenty of cotton yarn in various colors.
Labels: Projects
Comments:
I think I'll do your idea and try this - I just bought some apple-green cotton to make something for my youngest sister! She's going to love this pattern. Yours looks super.
Post a Comment
<< Home